Semi-final results are now in for the upcoming CEE M&A Awards, the only awards ceremony to recognize and honour excellence of the M&A sector in the CEE region. Hosted at the Westin Hotel in Warsaw on March 7, 2019, the awards will be presented to the most active and professional PE and VC companies operating, as well as some of the region's top supporting companies and service providers.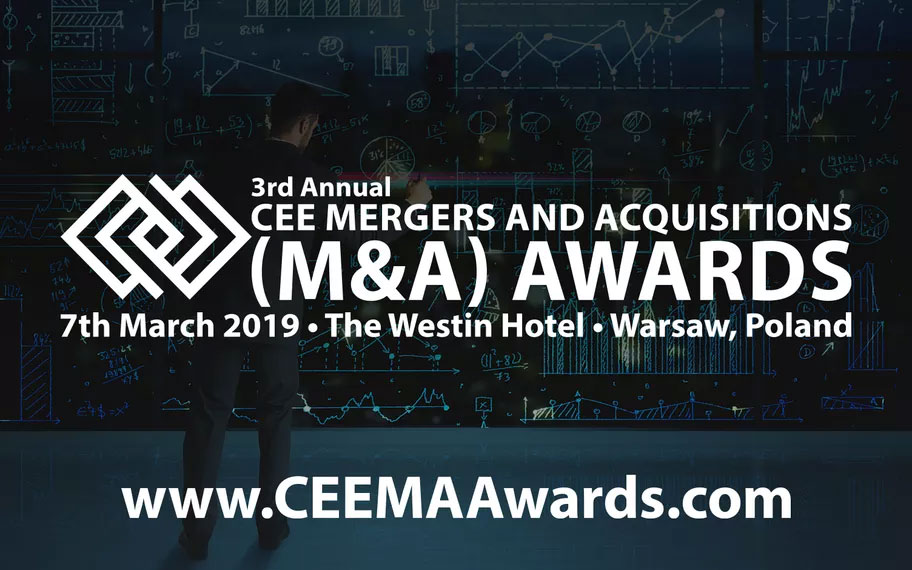 At the gala celebration more than 150+ senior decision makers from the M&A sector are expected to attend. Primarily the awards will recognize companies and individuals who have demonstrated the best overall performance during the past year.
The M&A Awards celebrate the outstanding efforts and achievements of all those involved in identifying, coordinating and completing the important deals, which have produced consistent results, and the potential to change the fate of businesses and industries throughout the region.
The M&A Awards also highlight the dedication, outstanding results and top quality client service provided by many M&A industry leaders. These awards showcase the hard work, dedication and determination of firms throughout the region, as voted for by their clients and industry peers.
Including Professional of the Year, there are 14 categories focusing on the investors and the companies supporting them.
Countries and regions covered at the M&A Awards include: CEE: Czech Republic, Hungary, Poland, Slovakia, Ukraine. NEE: Belarus, Estonia, Latvia, Lithuania, Kaliningrad. SEE: Albania, Bulgaria, Bosnia and Herzegovina, Croatia, Georgia, Macedonia, Montenegro, Romania, Serbia, Slovenia.
Semi-finalists
Company of the Year
Professional Service Provider
Drooms
FidaSmart
Fordata Luxembourg-Poland Chamber of Commerce
Profitus
Spaceflow
Tax & Financial Advisory
Advicero Tax Nexia
Linklaters
PwC
Insurance Firm
ANV Global Services
Dual
Liberty GTS
Marsh
Tokio Marine HCC
Advisory Firm
A.T. Kearney
CET
CMT Advisory
Dragon Capital
JP Weber
PwC
SwanLake Capital
Trace Capital
Boutique Law Firm
Cytowski & Partners
Graf Patsch Taucher Rechtsanwälte
Łaszczuk i Wspólnicy
Mrowiec Fiałek
Regional Law Firm
Crido Legal
DeBenedetti Majewski Szcześniak
Havel & Partners
Kochański & Partners
PRIMUS DERLING
Wierzbowski Eversheds Sutherland
Global Law Firm
Allen & Overy
Dentons
Linklaters
Noerr
Orrick, Herrington & Sutcliffe
Bank
Bank of China
Bank Pekao
CET
Maconis LLC
Venture Capital Firm
Atmos Ventures
Alfabeat
Buran Venture Capital
Enern Investments
iTech Capital
Private Equity Firm
Avallon
Atrium European Real Estate
BaltCap
Credit Value Investments
Dragon Capital
Griffin Real Estate
Kartesia
Deal of the Year
Cross-Border Deal
Lawrence David Ltd acquired by Wielton SA
Kartesia acquired GroGlass
Sarantis Group acquired Ergopack
Nets Group acquired Dotpay/eCard
Private Equity Deal
Aegon acquires 49% stake in Phinance
Alfabeat invests in Andiamo
Avallon acquired Stangl Technik Group
Atrium European Real Estate acquired Prime Warsaw Properties
Griffin Real Estate acquired Metro portfolio
CVI/Management acquired Exact Systems
Exit of the Year
Avallon exits Velvet Care
Buran Venture Capital exits Ponominalu
Horizon Capital exits Ergopack
iTech Capital exits Trading View
MCI Capital exits Dotpay/eCard